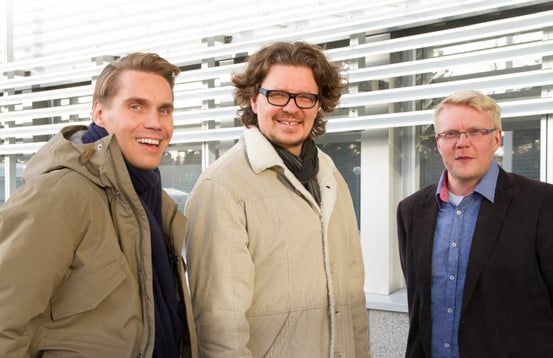 Oneminstory's Antti Sipilä (left) and Headmaster of Lapland UAS Antti Haase were the star lecturers of the Innofun seminar, led / facilitated by Jukka Auraneva from Digipolis.
Innofun is an international project realised by Lapland University of Applied Sciences, which aims at producing new, innovative funding solutions and marketing tools for companies. The Lapland UAS organised a seminar about the Innofun project in Digipolis on 23rd of October. The seminar offered presentations on new media tools for marketing and sales of innovations in a global setting / environment. As a result of the pilot work, company videos emerged, stating / verifying an old wisdom:
– Motion picture and sound is worth more than a thousand pictures or a million words, Lecturer of Lapland UAS Antti Haase simplifies.
The seminar instructors / educators are leading professionals in marketing video production in Finland. Both Antti Sipilä from Oneminstory,as well as Sami Paassola from Superclick had their presentations generate great interest.
– You may have the most ground-breaking plan for marketing measures and digital execution, but without emotional / emotive content, it's all for nothing. That is why especially the story of the video should receive considerable attention, Sami Paassola points out.
In the seminar a co-operation agreement / arrangement between Lapland UAS, Digipolis and partners to produce innovative video services for entrepreneurs was announced, with the first application round kicking off as well. The application is targeted for local companies, with a maximum of 6 companies brought aboard a production period in 2015.