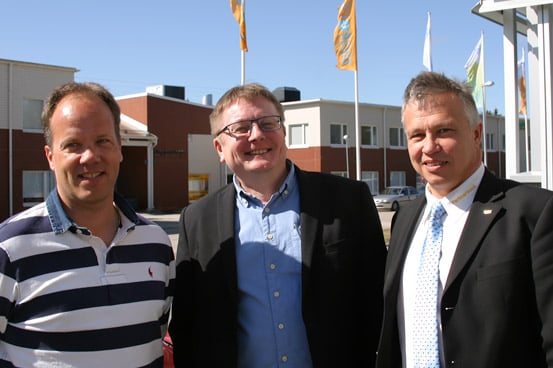 Opening the doors to the Arctic market: consultants Jaakko Isotalo and Timo Untinen from Gateway Norway AS together with Arctic Advisor Seppo Ahola from Digipolis.
Kemi and Digipolis Oy are responsible for heading up the wide-reaching Arktisuus project; a Ministry of Employment-led regional town network pilot procedure. The other project parties besides the Kemi-Tornio region are Rauma, Lieksa and Suupohja.
The project aims to promote the exports of industrial services companies and to find new business opportunities in the field of ecological solutions. Simultaneously, the aim is to publish investment data on both large-scale projects and smaller projects worth one to several million Euros.
The main focus of the project is on small and medium-sized companies, and the target areas are northern Sweden, northern Norway and north-western Russia. The pilot focuses on large-scale projects in the Arctic region and across the Arctic industry ecosystem.
In practice, the project's target group consists of companies that currently serve their regional infrastructure, process and mineral industries but are able and willing to export their know-how to other northern regions for use in infrastructure projects and the operations of mining and oil & gas industry.
Less theory, more practical instruction
On Wednesday 14 May, Digipolis played host to an Arktisuus project expert meeting. Gateway Norway AS consultants Timo Untinen and Jaakko Isotalo hosted the meeting. As its name suggests, Gateway Norway AS functions as a portal to the growing Norwegian market.
"We provide companies with practical know-how. One could say that our core competence lies in everyday operations rather than Arctic matters," says Isotalo.
Gateway Norway AS was established by small and medium-sized business entrepreneurs.
"We work in a simple, practical and direct way that is both customer and business-orientated. When in Rome, you should do as Romans do," states Untinen.
According to Untinen, the members of the expert organisation are independent small and medium-sized business entrepreneurs who have already taken the companies they represent to the Norwegian export market, among others.
"Now we advise and assist others, utilising and sharing our own experience. What sets us apart is that we operate on a practical level whilst others keep theorising," says Untinen.
According to Isotalo, Gateway Norway AS helps companies to acquire new customers, open the required doors, establish themselves in Norwegian society and carry out any practical operational arrangements.
"Such practical matters include the establishment of an enterprise, the acquisition of facilities, accommodation arrangements, contracting techniques, trade union relations, labour protection authority relations and dealing with the Norwegian tax authorities," states Isotalo.