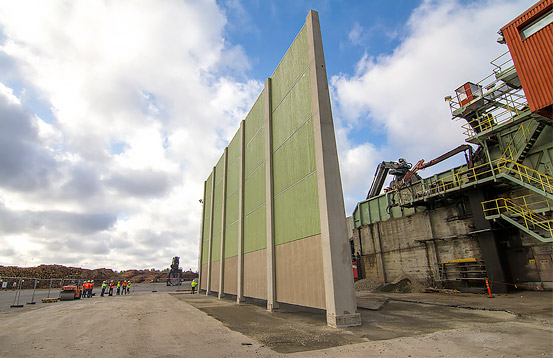 A new step at utilising CLT (cross-laminated timber) was taken when a massive noise abatement wall was erected at Stora Enso's Veitsiluoto Mill in mid-September. The 15 metre high and 30 metre wide wall was assembled from CLT boards manufactured as student work by the Vocational College Lappia and concrete pillars manufactured by Rajaville Ltd. The noise abatement project for the Veitsiluoto debarking plant comprises the noise abatement wall and sound-absorbing damping surface mounted on the wall of the debarking plant.
The noise abatement wall is an excellent example of northern cooperation, since timber from Veitsiluoto was used as the raw material for CLT board frames, while the CLT competence centre's ability to manufacture and work with solid wood elements was crucial to the project. Subcontractors participating in the project were also from the economic region.
The noise abatement wall was built as a three-month project. Initially, the noise abatement wall located next to the groundwood cutting facility at Veitsiluoto mill was meant to be built from concrete elements, but in the end Stora Enso decided to use its own raw materials and local CLT knowhow. One important factor behind the choice of raw material was its eco-friendliness.
Digipolis has been a forerunner in the Finnish CLT construction development projects. One of the new initiatives by Digipolis is the experimental CLT house, which was completed last year and has ever since been the standard-bearer of new wood element construction.
The parties responsible for the implementation of the experimental CLT house were Digipolis, the Lapland University of Applied Sciences and Vocational College Lappia. The experimental CLT house project is partly funded by the European Regional Development Fund (ERDF), with the Regional Council of Lapland / Ministry of Education and Culture's administrative sector as the financing authority. Other financiers include Digipolis Oy, the Lapland University of Applied Sciences, Kemi-Tornionlaakso Municipal Education and Training Consortium Lappia, the Kemi-Tornio Development Centre and various companies and communities.
"It is great to see that opportunities afforded by CLT have been widely noticed. This also speaks of increasing interest in Kemi's CLT competence centre," says Tytti Ahoranta, project manager for Digipolis.
The inauguration of the Kemi CLT competence centre was held on 25 April 2014. This nationally significant competence centre was opened by the Minister of Education and Communications Krista Kiuru.
"Lappia's CLT learning environment is practically a small production facility and as such unique in Europe. The experimental CLT house of Digipolis complements the competence centre as a concrete example of functioning of CLT in building construction; especially as framework element and vapour barrier. Together with the infra site in Veitsiluoto, we have rapidly bolstered Kemi's reputation as a CLT town," says Ahoranta.
More information about noise abatement wall construction:
http://www.pohjolansanomat.fi/Paikalliset/1194927543161/artikkeli/veitsiluotoon+massiivinen+meluntorjuntaseina.html
http://yle.fi/uutiset/meluntorjunta-aitakin_vihertaa_jo/7473626