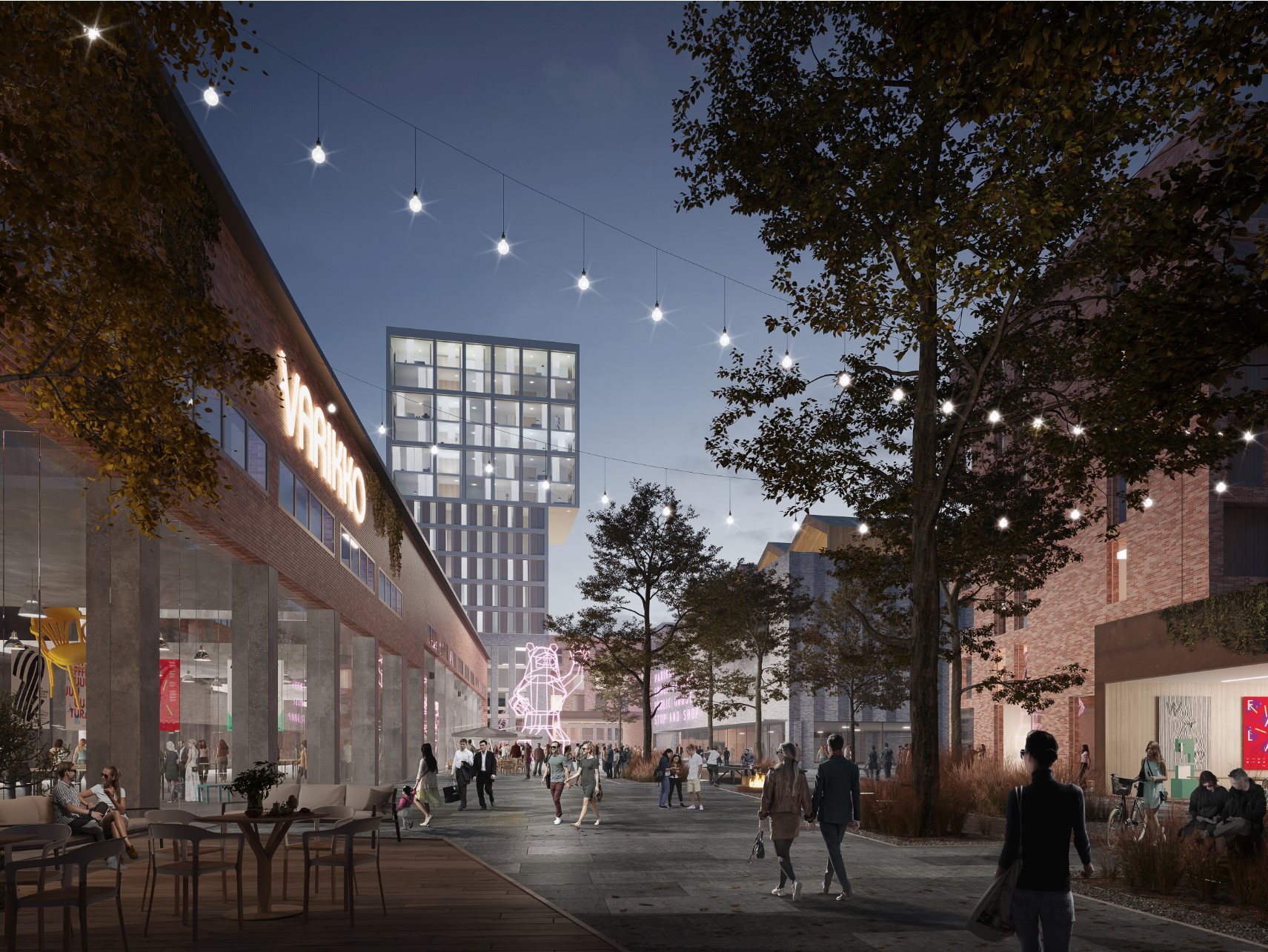 PHOTOGRAPH: Hartaanselänranta general plan, MUUAN Oy
In the prologue of the research report CLT-Koetalon rakennusfysikaaliset tutkimukset, published in 2016, I wrote more or less as follows: "The need to control global warming has resulted in the requirement to curb carbon dioxide emissions from the construction industry quickly and efficiently. Requirements related to the efficient use of resources, low-carbon development and improved recyclability have boosted the development of wood structure innovations."

Skyrocketing urbanisation is maintaining the long-lasting boom in the construction industry. Urbanisation is now progressing at a rate of some 200,000 people every day. Global residential construction takes up about half of all natural resources available – and it generates around 40% of all waste. In addition to being the bad guy of climate change, the construction industry is ridden with poor productivity, as it has been for decades, unlike any other field of industry. Productivity in other industries has been improved in a decade thanks to digital innovations such as i4.0. Getting the conservative construction industry to embrace development has proven to be difficult and slow.
There has been increasing concern about climate change over the last five years. Requirements to mitigate climate change have also increased. Various countries have set ambitious national targets to curb carbon dioxide emissions. Finland is aiming to become a carbon-neutral country by 2035!

The construction industry is able to meet the climate challenge by using products made of renewable, easily recyclable raw materials. They are an efficient way for the construction industry to do its bit in mitigating climate change and consequently preventing the continuing loss of biodiversity. A circular economy will create a great variety of new business opportunities for the construction industry. Wood can be used to manufacture products that are beautiful, durable, timeless, safe, healthy and that are suitable for demanding construction projects – while working as single-material structures and carbon sinks. Wood is the only material the production process which generates energy, and its use is increasing as we speak, in particular in Finland (VMI 12).

"Industrial wood construction is the trump card of the wood industry."
The requirements related to low carbon content and recyclability targeted at the construction industry have boosted the development of wood construction innovations, and legislation has been updated to be more favourable towards the use of wood. CLT (cross-laminated timber), suitable for industrial module production, is a wood structure that is suitable for load-bearing vertical and horizontal structures that is gaining ground the fastest. Thanks to CLT, the efficiency, productivity and quality of the construction industry have taken a leap forward, supported by data modelling.
Industrial wood construction is the trump card of the wood industry. As the service life of a building comes to an end, wood structures can be reused in a number of sites, from garden pavements to biocarbon and new construction products.
Some started to refer to CLT as the building material with the most potential in the world at the beginning of the decade. Today, hardly anyone opposes this view. An increasing number of buildings and entire blocks built from CLT, one more impressive than the other, have been built around the globe. Thanks to CLT, non-renewable concrete, which is also difficult to recycle, can be replaced by renewable wood in even the most demanding projects.
In Finland, the potential for CLT construction can be examined in Oulu, for example, at Hartaanselänranta Housing Fair in 2025. A 16-storey wood-structured block of flats reaching close to record height will be built for the fair, and the 14-storey block known as 'Lighthouse' in Joensuu will have to surrender its title as Finland's tallest.
Professor Schellnhuber delivers a strong message in support of the key role for wood in President Ursula von der Leyen's New European Bauhaus: "We can turn timber into a construction material in the built environment, recycle most of the wood […] you can cascade utilisation and immediately replant the trees that you have taken away and even increase the forest area, then you have what I call the 'Forestry-Construction Pump'."
Let's go for it!