Circular Economy Centre hosts livesession at World Circular Economy Forum WCEF2022 at 8th of December focusing "How to attract circular economy investments to eco-industrial parks?". The session focuses on joint international learning and sharing of experiences on attracting investors and investments to eco-industrial parks.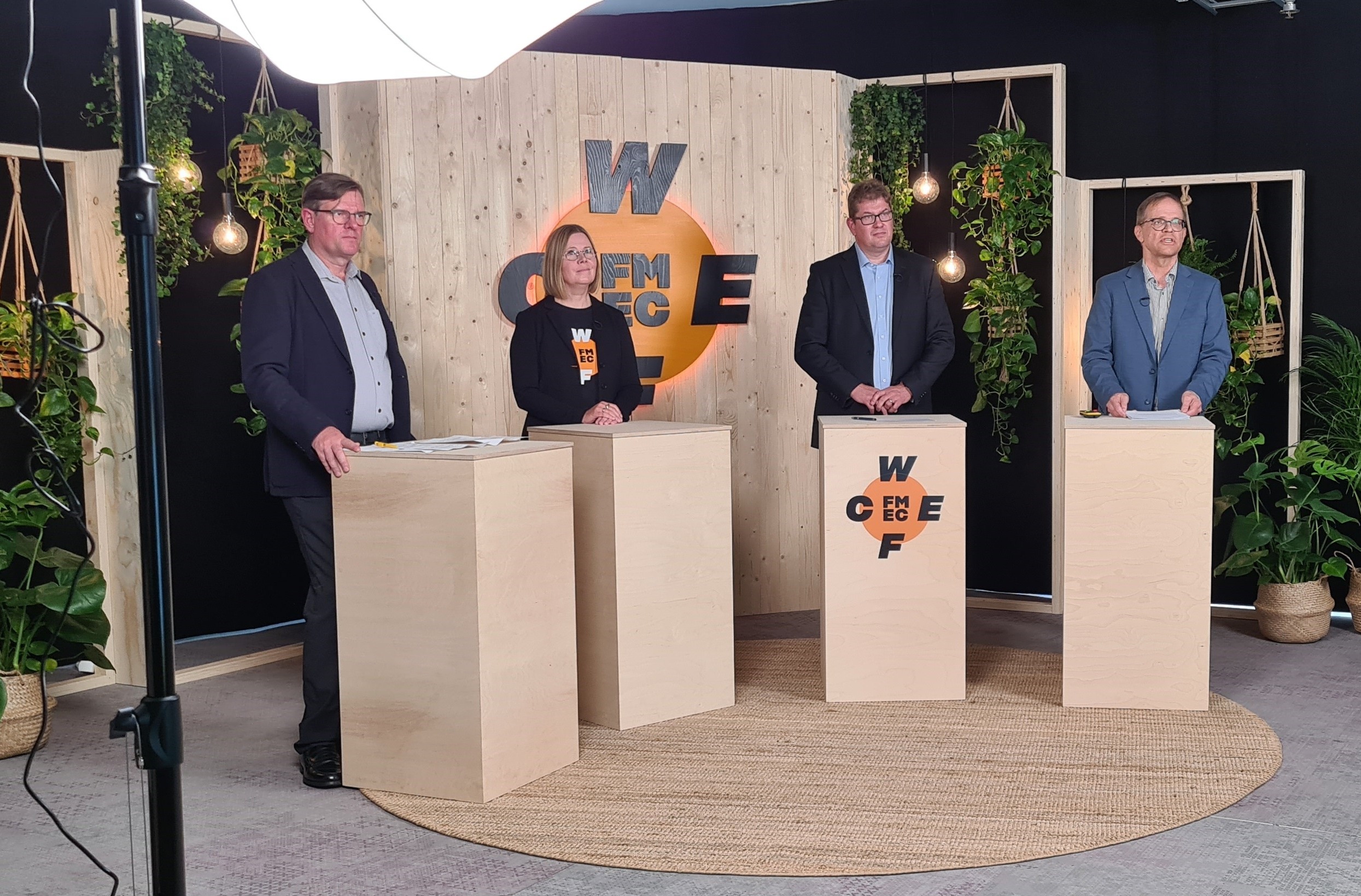 Klaus Tyrkkö, UNIDO, Nani Pajunen, Sitra, Tuomas Pussila, Circular Economy Centre and Jukka Teräs, Norrum at WCEF2021 livesession studio. PHOTO: Soile Suvanto
WCEF is the biggest circular economy forum in the world and this year forum brings together forward-looking thinkers and doers for the first time in Africa, Rwanda.
"How to attract circular economy investments to eco-industrial parks?" livesession is part of Accelerate Sessions at WCEF2022. Livesession studio will be in Kemi, Finland, where Circular Economy Centre locates. Livesession is co-organised by Lapland University of Applied Sciences.
Textiles circular economy case Infinited Fiber Company at Veitsiluoto and 50 years success in Kalundborg Denmark
"We aim to show good practices by cases and discuss new initiatives to promote eco-industrial parks. We have interesting views from Denmark, Kalundborg area, where eco-industrial park has worked 50 years successfully", says Director Tuomas Pussila, from Circular Economy Centre.
"We´ll look at session what´s going on here in north, because we are really in hotspot when talking about green transition and circular economy investments. For example case Infinited Fiber Company to Kemi Veitsiluoto has been noticed globally. International co-operation is one of the main topics at livesession. It is crucial in many ways", says PR & Communication Specialist Soile Suvanto, from Circular Economy Centre.
There is also interactive part at livesession. "We would like to hear what audience is thinking during the livesession about our topics or do they have any questions to our specialists", Suvanto hopes.
Register now to WCEF2022 livesession event
Whole session will be about 90 minutes and it will start at 8th December 15.00 CAT.
"We made livestream also last year at WCEF and it was really international show, about 300 registered from all over the world. Topic of the livesession this year is attractive, money, so we´ll have successful show also this year", Pussila tells.
Link to the programme and register to event:

Eco-industrial parks need global co-operation, pointed out Policy Brief 2, which was published after WCEF2021 livesession by Circular Economy Centre and Sitra:
Livesession is part of the Industrial Circular Economy in Lapland 2.0 - Reinforcement of circular economy activities -project. Partners: Kemin Digipolis, Circular Economy Centre, Lapland University of Applied Sciences and Lappia Vocational College and Lappia Education Ltd. Funding: European Regional Development Fund, The Regional Council of Lapland.