Milestones in the cooperation between Tapojärvi and Digipolis
Tapojärvi and Digipolis have developed industrial circular economy in a long-term cooperation. It all begun in November 2012 with a preliminary assessment meeting between Jouko Pakarinen from Tapojärvi and Kari Poikela from Digipolis, discussing about exploiting industrial by-product flows. In the middle of the meeting, the main owner Pertti Tapojärvi entered the room and asked: "Where is that million?"
The company management was interested in how exploiting industrial waste could be turned to genuinely profitable business. The main outcome of the preliminary assessment meeting was that both parties were committed to the cooperation. For Tapojärvi that was easy as they have carried out long-term research, development and production work with industrial by-product flows for years. The company set a goal of zero waste disposal at any stage.
2013
Outokumpu's by-product flows were to be developed to a product where virgin cement and aggregate would be substituted with slag. Tapojärvi begun planning the production of concrete blocks immediately. They already had prior experience of cooperation with Outokumpu, as the company has been exploring and developing the potential of Outokumpu's by-product flows since 1989. Tapojärvi's mission is to meet the R&D needs of their cooperation partners and other companies by creating new services and products, as well as sustainable and effective procedures to improve material efficiency.
Digipolis drafted a business plan for the concrete blocks developed by Tapojärvi and Outokumpu. By-Product Flows of Arctic Industries 1 development program was established. Lapland University of Applied Sciences came along to the steering committee.
The objective of the By-Product Flows of Arctic Industries 1 and 2 development programs was among other things to bring the investment ideas identified in the field of industrial waste and by-products to business activities of SMEs through piloting and identifying new potentials.
Digipolis already had at this stage a comprehensive understanding of the activities involving industrial waste and by-product flows within the Sea Lapland region and more broadly the Northern Finland, and this knowledge was utilised in the development programs.
4/2013
Digipolis interviewed representatives from all Kemi-Tornio region industrial companies and leading service providers for the Arctic Industries Ecosystem workshop. The companies' current state, needs and challenges were surveyed in the workshop. As a result of the workshop process, careful documentation and company prioritisation, a roadmap was generated for developing utilisation of by-product flows, and a development program was established based on the roadmap. Digipolis was given a mandate by the workshop participants to take the idea forward.
According to the workshop minutes, the participants' shared opinion could be summarized in the following way:
"6 to 7 years is a short timespan to create a market for industrial waste and by-rpduct flows."
"No more research, but concrete actions."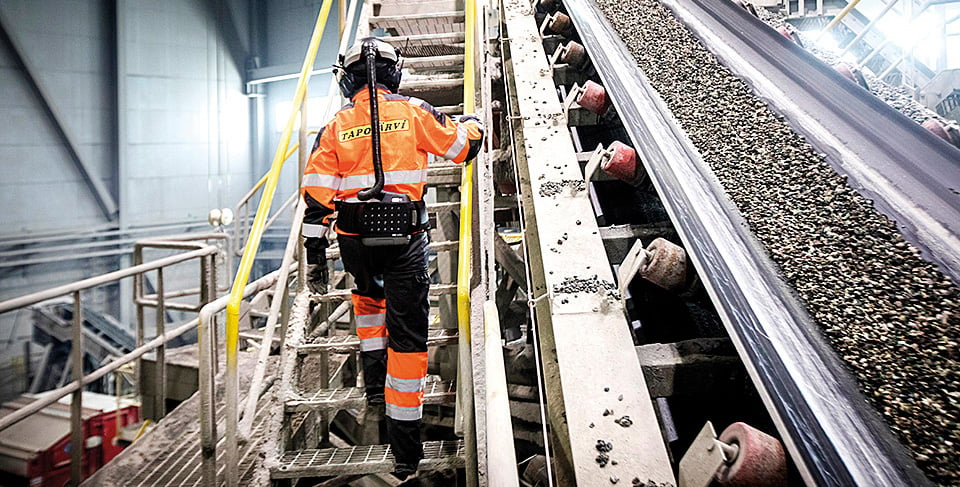 2014
One of the most important steps of development this year was joining the European networks. Digipolis put together a list of Kemi-Tornio region by-product flows with description of each associated company. Lapland was chosen as one of the cluster model regions of the European Commission, with emphasis on sustainable development of the refining of the natural resources, highlighting circular economy.
2015
A remarkable cooperation was launched with Hannukainen Mining Oy, owned by Tapojärvi. A general concept about utilising by-product flows was to be established to serve the mining industry as an ideological and commercial product.
11 / 2015
In cooperation with Palsatech an idea was formed about a showroom in connection with an industrial hall project. The objective was to utilise by-product flows broadly in building industrial halls in Kemi. Tapojärvi developed a floor structure solution of soil cement that would utilise the by-product flows: supporting and dividing structures would be produced from slag and the floor of the hall from slag-based concrete. Eventually Palsatech found business premises elsewhere with the help of Digipolis, but the research and development work was productive.
Planning of building Palsatech's halls with the showroom concept was activated again in April 2018 with Tapojärvi and Digipolis.
12/2015
Visit and presentation in Mosjøen and Mo i Rana in Norway.
2016
Digipolis and Hannukainen Mining started to reflect together where to pilot using recycled materials in mines. After the research, a mention was added to a permit application about utilizing by-product flows in the pavement of veinstone piles.
The process was advanced to a mining pilot that Hannukainen Mining committed to. The Kittilä mine was also committed to enabling the pilot structure and part of the piloting material was received from Outokumpu and SSAB. Digipolis carried out handling and documenting the official permit application process. Tapojärvi took care of the building process, gathering materials, and executing and financing the structure.
Digipolis had an estimation made of emptying open-pit mines and utilising by-product flows in neutralizing the mine waters. Simultaneously, an up-to-date information was established about the current state of the waters in quarries.
2016
The first thesis in the topic of concrete blocks made of by-product flows was published in the Lapland University of Applied Sciences, which then joined the research and development work.
As an important development step, practical development work was initiated between Tapojärvi and the Lapland University of Applied Sciences. Digipolis brought together Tapojärvi and the Arctic Steel and Mining RDI group from Lapland UAS for thesis work opportunities.
Production of concrete blocks from FeCr slag
Production of concrete blocks from VKU slag
Soil concreting experiments
2016
The Aalto University has developed a pragmatic tool to measure investment sustainability in process industries.
Digipolis took part to the development of this tool and enabled its piloting in a way that it could be used to transparently estimate investment sustainability in bio economy. The sustainability tool has been developed thereafter to be suitable for different industries and different sized companies.
11/2016
Digipolis coordinated the circular economy ideas between Solid Linear Oy (Kauko Kujala and Seppo) and Tapojärvi. A geopolymer for mining structures, based in recycled material, was developed as a result of this cooperation.
2017
Arctic circular economy was chosen as a strategic priority of the Lapland University of Applied Sciences. All the research groups within the Lapland UAS were to recognise their expertise related to this theme. Consultant from Digipolis facilitated this process.
During years 2013-2018 Tapojärvi has seven thesis work done in the subject of circular economy in Lapland and Oulu UAS, as well as the University of Oulu. One thesis is still under progress.
Industrial design students in the University of Lapland had a special assignment to use slag concrete as a material when designing noise barriers.
5/2017
The centre for industrial circular economy and Digipolis begun to promote the geopolymer development program, because the funding application hadn't proceeded at Business Finland as hoped.
2017
Tapojärvi, Jyväskylän Energia Oy and Elker Oy launched cooperation for researching an e-waste demo institution. The first meeting and contact was organized by Kari Poikela at Digipolis premises.
6 / 2017
The Sitra-funded Circular and Bioeconomy Centre was announced. The founding members and core partners are Digipolis, the City of Kemi and the Lapland University of Applied Sciences. The objective of the Centre is to develop the operational environment of the companies operating in the field of circular economy to be more competitive.
8/2017
Planning the circular economy demo facility continues in Jyväskylä. Tapojärvi launches research in how the hydrometallurgical processes can be applied in e.g. handling of by-product flows in mining and metal industries.
In the planning of the demo facility, Tapojärvi is responsible for raw material handling, electronic waste comminution and mechanical pre-treatment before the hydrometallurgical processing. New equipment manufacturers and separators were found in test drives of e-waste, which were tested also in slag processing.
11/2017
Terrafame indicated their interest towards geopolymer pavement structures.
11/2017
Sustainability tool was created for Hannukainen Mining. Simultaneously, the previous sustainability tool was expanded to include also regional economical impacts. VTT was also involved (Juha Honkatukia).
The report from Hannukainen Mining's sustainability tool was completed in May 2018. The total sustainability score was -3.0, which can be considered very good for a developing organisation.
2017-2018
A Digipolis employee joined the Tapojärvi development work as a shared resource.
Lapland UAS production engineering project course briefing and realization took place at Tapojärvi's slag treatment facility in a factory environment.
1/2018
Business Finland started funding a national circular economy mining pilot. Funding to the project was also received from Renlund foundation.
2018
Tapojärvi took part to a training program for circular economy companies in the field of chemistry, organized by Sitra and Deloitte.
4/2018
Tapojärvi begun to further develop the formula of the slag-based geopolymer and employed personnel for the project.
8-9/2018
Geopolymer block production for Pohjaset Oy started.
8-9/2018
Mining pilot structure construction was begun at the Kittilä mine.
12/2018
Tapojärvi made a ten-year service contract with an Italian steel factory Acciai Speciali Terni S.p.A. about slag treatment with emphasis on developing and producing slag-based end products.
Towards a sustainable Tapojärvi
Tapojärvi's sustainability tool process was applied to the slag processing method so that in addition to salvaging metals, other values could also be measured, such as ecologicality and sociability. The aptitude of the sustainability tool was also tested in mining environment through Hannukainen Mining.
Tapojärvi's sustainability assessment report was completed in January 2017. In that report, the corporation received the score of -4.14 (very good) for environmental operations, -3,94 (very good) for economical operations and -3,82 (very good) for social operations.
The corporation is committed to sustainable development. In addition, a sustainability report signed by the Aalto University increases their credibility especially in international business relations.